A VIRTUAL ADDRESS AND OFFICE
Having a French address can be a real asset for your company for several reasons.
You will have a better image, you will save fixed costs and you may even rely on French sales advisers knowing the French market.
1/ You save money with a virtual office !
Your virtual office in France reduces setup costs.
Having a virtual address in an official business center allows you to avoid expenditures on premises. These can be substantial, especially at startup. Having your own facilites without personnel is not necessarily a good idea. You have to count not only rental cost but also electricity and water as well as maintenance, housekeeping and furniture.
Be careful regarding domiciliation companies which propose very low monthly rates at the beginning with steep increases after a year's time. The search for low cost should not lead to the wrong decision. You are far better off working with a serious company offering a high quality of service.
2/ A virtual office includes the company offices
A domiciliation center offers offices with tables, chairs and meeting rooms. You can use these at any time, often by reservation in advance and according to a schedule. The costs are additionnal, and are generally invoiced by half day or by day, but they can also be included in your monthly subscription. You can receive there your current and potential customers as well as your suppliers.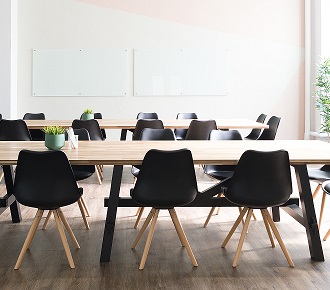 3/ An address in France with mail scanning
In order to choose your business center in France, you will consult different service companies.
Be sure to consider several aspects. Beyond the monthly subscription rate, you need to compare the tools and services which will be made available to you.
A domiciliation center must offer the digitilization of incoming mail with mail forwarding on demand via a web application. Online, you must be able to visualize the contents of your mail, transfer a document to your accountant, send a specific piece of mail to an address, send a pdf document to a supplier with return receipt requested, etc.
You will aslo want to have a cloud service and to store there all your company documents, including postal mail scanned and logged by the domiciliation company as well as the digital documents you will have uploaded yourself.
The web application must include a keyword-based search engine where you can easily find your important documents.
4/ Work with company management professionals
Virtual office professionals help you to start your company.
Domiciliation companies are staffed by company startup and management professionals. If you have a specific question or need, they will be able to direct you to the right contact to find a solution. When starting a company, you can use their service for assistance with formalities. Their teams fill out for you the administrative CERFA forms and send the completed dossiers to the registry and to the competent authorities according to the legal structure chosen.
For the drafting of statutes, you can use their legal service. Their fees are lower than those of accountants, notaries or lawyers.
5/ French secretaries for your company
In addition to choosing a service provider who can offer online document management software, it is interesting to consider supplemental and on-demand services for your business center. For example, a telephone reception service in French is very useful when you are on vacation or occupied. Vou will receive the message transmissions in English. Another example: a menu-based secretarial service to formulate an estimate or to write or send a mail can be extremely useful.
Finally, the virtual office service can be further extended to accompany you in the management of your customer base by email or telephone and in the performance of regular or one-off marketing or commercial operations.
6/ Remember also that you will receive parcels
As a company grows, new needs arise and it is very wise to anticipate them. It is highly probable that you will need to receive parcels or pallets at some point. The business center must at a minimum have a warehouse to store and manage your parcels. If it is well organized, you can be provided one-off logistical operations of reconditioning or expedition of merchandise in or outside France.
7/ A telephone number linked to your domiciliation
If you need one or more French telephone numbers, your virtual office can provide them. These telephone numbers over the Internet are not linked to a physical address ; they can be maintained if you move. Most often, they begin with 09 xx and are accessible from your country. You can thus answer from your office outside France. Online fax services are also an option included in the web application proposed to you.